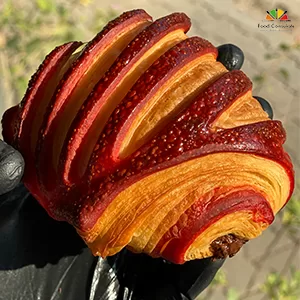 Baking Perfecting the art of Pain au Chocolat
Introduction of Pain au Chocolat
Pain au Chocolat, also known as chocolate croissant. It is a buttery, flaky pastry that is filled with rich, dark chocolate. Pain au chocolat is a popular breakfast pastry and is enjoyed by people all over the world.
The history of Pain au Chocolat can be traced back to the early 19th century in France. It is believed that pain au chocolat was created by French bakers who were looking for a way to use up their leftover croissant dough. They added chocolate to the dough and the result was a delicious pastry.
One of the reasons that pain au chocolat is so popular is because it is a versatile pastry. It can be enjoyed on its own as a breakfast pastry, or it can be served as a dessert with a dollop of whipped cream or a scoop of ice cream.
When making pain au chocolat at home, it is important to use high-quality ingredients. The dough should be made with real butter, and the chocolate should be dark and rich. In addition, it is important to take the time to properly roll out the dough and fold it around the chocolate to create the signature flaky layers that make pain au chocolat so delicious.
There has been a growing trend of artisanal bakeries that specialise in pain au chocolat and other French pastries.
Where to learn making Pain au Chocolat?
If you would like to learn Baking in Chennai especially to make the perfect pain au chocolat and other such delicious french pastries, we have got you covered. Food Consulate – Academy for Excellence in Baking Arts & Science in Chennai offers an International Diploma in Baking & Patisserie which with 100% Hand On training & covers a wide range of modules including viennoiseries.
This could be your first step to becoming a professional pastry chef. Join our baking academy and explore a wide range of courses such as a Diploma in Baking & Patisserie, Short-term Baking Courses like Macarons, Cookies, and Tarts, Cake Decorating classes and one-day baking workshops.